In the medical exhibition held in Dusseldorf, Germany in November last year, robot giant KUKA demonstrated their light robot LBR Med, which can assist in surgery or medical rehabilitation. At the exhibition, LBR Med does make people look forward to it.
Lei Feng network news, recently, KUKA announced that KUKA LBR Med robot will be put into mass production in spring 2017.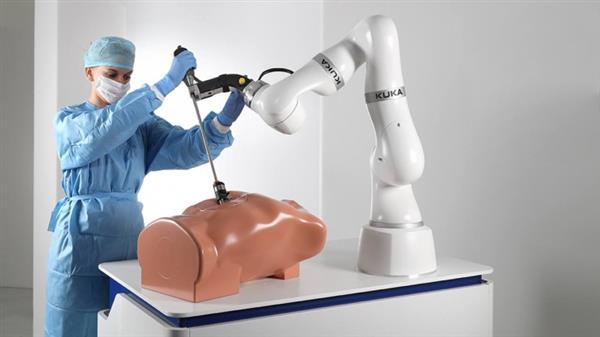 Lightweight robots have always been a very important branch of the KUKA product line. The KUKA LBR iiwa robots have already been recognized by the industry. The LBR series has become a proxy for the KUKA lightweight robots. If LBR stands for "light robot", iiwa stands for "intelligent industrial work assistant".
Previously, LBR iiwa robots achieved direct cooperation between humans and robots, thus completing the task of high sensitivity demand, and without any protective measures, the scope of work was extended to a new field, so that people work more efficiently. Although the same is a series of light robots, the subtle difference with the KUKA LBR iiwa robot is that KUKA has strict requirements for the robot production in the field of medical surgery, and thus made a number of adjustments to the medical lightweight robots.
Firstly, KUKA adjusted the exterior material of the LBR Med robot to make it biocompatible and resistant to corrosion.
Secondly, all KUKA LBR Med robotic built-in interfaces are optimized and meet the hygiene standards of clinics, hospitals or operating rooms. It is reported that the LBR Med robot passed the IEC 60601-1 management standard (the IEC 60601-1 standard is a harmonized standard for medical electrical equipment approved by most countries' public health departments). The IEC 60601-1 standard of KUKA's LBR Med robot passes the IECEE-CB architecture process. KUKA said that through KUKA's CB certification and CB reports, it is possible to reduce the number of quizzes and significantly simplify the certification process.
It is understood that the LBR Med robot has a very high sensitivity and is developed by KUKA based on its seven-axis light robot technology. Each joint is equipped with a sensor and has a certain sensing function. Regarding the role of the LBR Med robot, KUKA explained that medical product manufacturers can integrate it into a medical product as a separate mechanical component to perform various tasks. With the right tools and procedures, LBR Med can support medical work such as endoscopy and biopsy, and can also be used to perform bone cutting or spinal nail placement.
KUKA's technology in collaborative robots has always been among the best in the world. Its collaborative robots have made breakthroughs in sensory abilities. Safety, quick teaching, and simple operation and control are the advantages of KUKA's lightweight robots. This mass production of LBR Mde robots may be able to solve some medical efficiency problems. It is an important attempt for the popularization and promotion of medical robots.
Brushless Dc Motor Controllers
Dc Servo Controller,Dc Servo Motor Controller,Dc Electric Motor Controller,Brushless Dc Motor Controllers
Jinan Keya Electron Science And Technology Co., Ltd. , https://www.keyaservo.com